Homeopathy is amazing. It's also confusing, and overwhelming!
Do you stick to your one method and hope that it will fit everyone who comes to see you?
Do you feel like you're taking a stab in the dark when it comes to choosing a remedy?
Have you ever felt like if you can't get it right, then you might just give up?
Why are there so many approaches?
How do you know when to use which approach?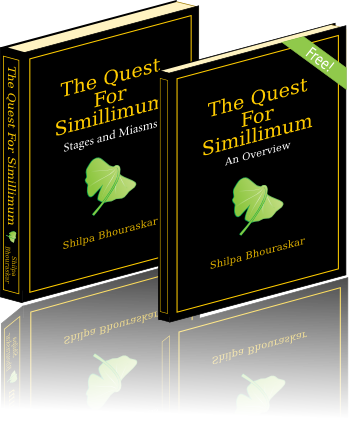 The Quest for Simillimum
This book series is like a guide through the minefield of uncertainty and confusion that can be Homeopathy.
It will attempt to answer the most confusing questions you have about Homeopathy and to change/improve the way you approach your practice.
The words walk you through the evolution of Homeopathy; how the various approaches developed and why, - not in a dry or boring "History of Homeopathy" kind of way, but in a way that explains when and how to spot which approach is the best fit for your patient.
How will it do that?
You will learn how to flexibly select the best approach that suits your patient, in case your favourite method doesn't work.
Your understanding of the remedies will naturally deepen, so you will be able to choose the most appropriate remedy, according to a particular (and most appropriate) method.
You will learn how to figure out the Miasm, depending on the approach you use, and incorporate it into your remedy selection, providing greater accuracy of remedy choice.
Finally in the example cases, there is a step by step analysis explaining why that method was chosen, what worked and why, and what didn't.
These books are not just about another theory or more successful cases, but about the problems we all face in practice and how to learn to find solutions, for yourself.
The books in the series
The Quest For Simillimum - An Overview
The Quest For Simillimum - Stages and Miasms